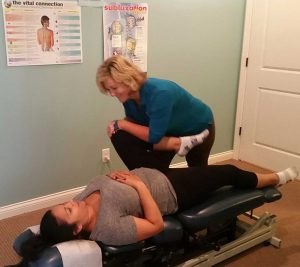 Get Well Solutions
Dr. Julie L. Lyles, a southern Ohio native and academic stand-out, always knew she
wanted to be a doctor. A mentorship experience with a female Doctor of Chiropractic
impacted her greatly. While Pre-Med in undergraduate school, Dr. Lyles worked as a
Pharmacy Tech. It was while working in a pharmacy and seeing the limitations of
medication that Dr. Lyles realized just what kind of Doctor she wanted to be, acknowledging
that "God didn't make it that hard to be healthy!"
After her first year at the University of Cincinnati, Dr. Lyles joined the Air Force
National Guard to pay for the education that lay ahead of her. After receiving her degree
in Natural Science with high honors, she moved to Marietta, GA to begin her chiropractic
journey at Life Chiropractic College.
Charleston, SC was where Dr. Lyles began her career as a Doctor of Chiropractic. Living
and working in the downtown community, Dr. Lyles established her practice through
educational seminars and public speaking engagements, engaged as a business partner
of local schools, and migrated toward the care of athletes playing at the College of
Charleston with her new specialty in care of the extremities. She was even resourced as
Team Chiropractor for a renowned Private school during a tournament in Kingston, Jamaica!
In 2001, Dr. Lyles returned to Atlanta and embarked on a career in Chiropractic education
and administration while maintaining a part-time practice after an unexpected genetic
health crisis. She served as Clinic Director of the largest Chiropractic College in the world
and served on Atlanta Falcon (#20) Allen Rossum's Board of Directors for his Healthy Kids
Klub created to fight childhood obesity.
While in Louisville, Dr. Lyles has expanded her skills and her practice with certifications i
n Braincore Neurofeedback Therapy and Dry Needling, and is currently pursuing Pediatric
Postural Assessment and Correction Certification. She is a member of the American
Chiropractic Association and the Kentucky Association of Chiropractors and holds
inactive licenses in Georgia, South Carolina, and Florida. Dr. Lyles has also grown her
facility to house Braincore Neurofeedback and The Spa Room (Seeking Positive Alternatives
) in response to enduring the mental Illness and addiction that sadly plagued certain
members of Dr. Julie's childhood family. You can see Dr. Julie and her husband in
discussions about natural healthcare on Wave 3 Listens on occasion.
Driven by her faith, Dr. Julie is a Member of Southeast Christian Church and her son attends
Christian Academy. She loves playing in the dirt and lounging by her pool with her husband,
friends, and doggies or watching her son in his HipHop dance performances or skateboarding.